Student Life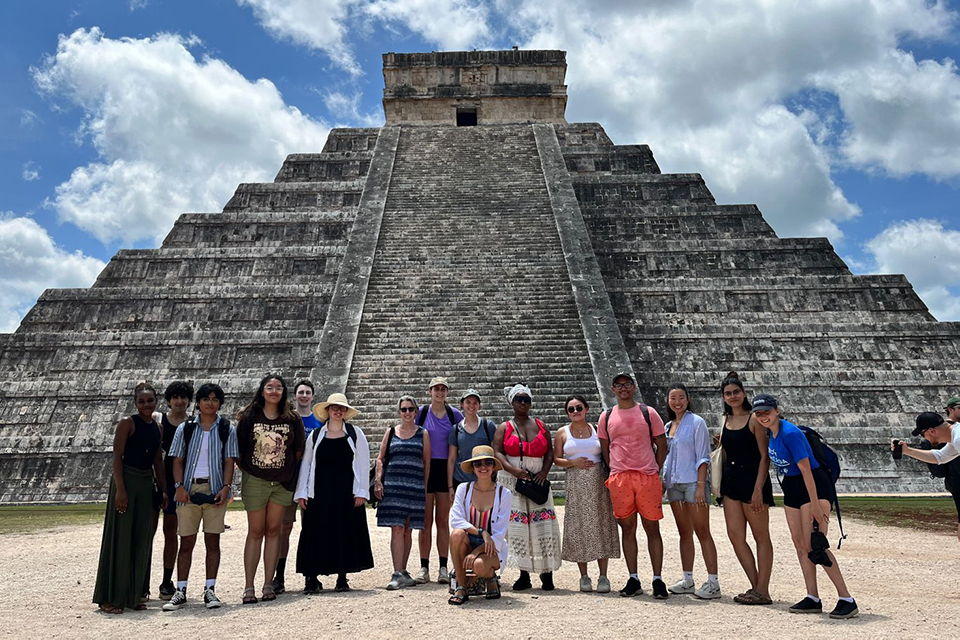 Orientation
Prior to the start of the program, the Office of Study Abroad will run a pre-departure meeting to help prepare students for their time abroad. For students who are unable to attend, an online orientation will be held. Students will also receive a number of different pre-departure materials addressing the following topics:
Academic overview
Cost of attendance
Money matters in Mexico
Packing preparations
Passport and visa
Arrival information
Health, safety and risk management
Students will also be required to submit a number of preparatory forms prior to departure.
In Mérida, an orientation program will help students adjust to their new environment and familiarize themselves with the various support services available for their use.
Host Faculty and Institution
Coursework will be taught by local instructors under the guidance and supervision of the HSSP Program. Students will be required to enroll in both courses on this program. Classes will meet at the IFSA Mérida Center. While the coursework is taught in English, some academic site visits may require Spanish interpreters. When this is the case, IFSA will provide interpreters as needed. 
Computers and WiFi
WiFi is available in Mérida, but availability and speed will depend on weather conditions. Students will be required to provide their own laptops for schoolwork purposes.
Housing and Meals
All Brandeis in Mérida students will live with a homestay family, an important opportunity to be immersed in Yucatecan culture and gain a greater understanding of your host community. Homestay families might be couples with children, older couples, or older women, all of whom open their homes to Brandeis students to welcome them to Mérida for the summer.
Your homestay will be arranged with a carefully selected host family and located within a typical commute of the IFSA program center. Only one student is housed per family for maximum cultural and language integration. Students will complete a survey prior to receiving their homestay placement that allows them to be situated in accommodation in which they will be the most comfortable. You will have a single bedroom with a bed, shared bathroom, and desk or other designated place to study. Laundry and three meals per day are included. 
Field Trips and Cultural Events
Step outside of Waltham and into the Yucatán Peninsula, where Yucatecan culture, food, and history take center stage. In addition to exploring daily life in the bustling city of Mérida through walking and driving tours, visits to the Museum of the Mayan World, and other immersive opportunities, the program will include site visits and excursions to neighboring Chichén Itzá and Uxmal to broaden students' knowledge of the region.
A program excursion to Havana, Cuba is also an integral part of the program. This multi-day group trip, which is included in the program cost, gives students the opportunity to explore a new culture and healthcare system, a critical component of the Comparative Public Health Systems in Latin America course.
Diversity, Access and Inclusion
Studying abroad can be an opportunity to step outside your comfort zone and explore new horizons. The Brandeis Office of Study Abroad supports students in reflecting on their own personal identities in preparing for a study abroad experience that will be meaningful and in which they will be supported both in and out of the classroom. Study abroad program staff and past participants have prepared a list of resources related to personal, religious, cultural, and other backgrounds and identities which may be helpful to students considering Brandeis in Mérida. On this Brandeis-Run Program, program staff and faculty strive to ensure that students have access to the resources they need before, during, and after your time on the program to give you the opportunity to learn and grow in a comfortable and supportive environment.
For more resources related to culture and identity, please click here and reach out to your advisor or a Study Abroad Ambassador if you would like to discuss anything further.
Independent Travel
Students will have opportunities on the weekend to travel, but it should be noted that extensive travel is not advised. Travel taken by students in the past have included a day trip to Progreso Beach as well as weekend trips to Tulum or Cancún. You are required to attend classes throughout the week and expected to schedule your independent travel for the weekends and holidays. In addition, Brandeis and IFSA require that you leave a basic copy of your itinerary with a staff member so you can be quickly contacted in case of an emergency.
As the program is an intensive experience, extensive travel during the program is not advisable.
"This experience was one of a kind. I formed so many new connections and learned things I would not have been able to in a traditional classroom in the U.S."
Meggee Joseph
Brandeis in Mérida 2023