Brandeis Oxford Affiliations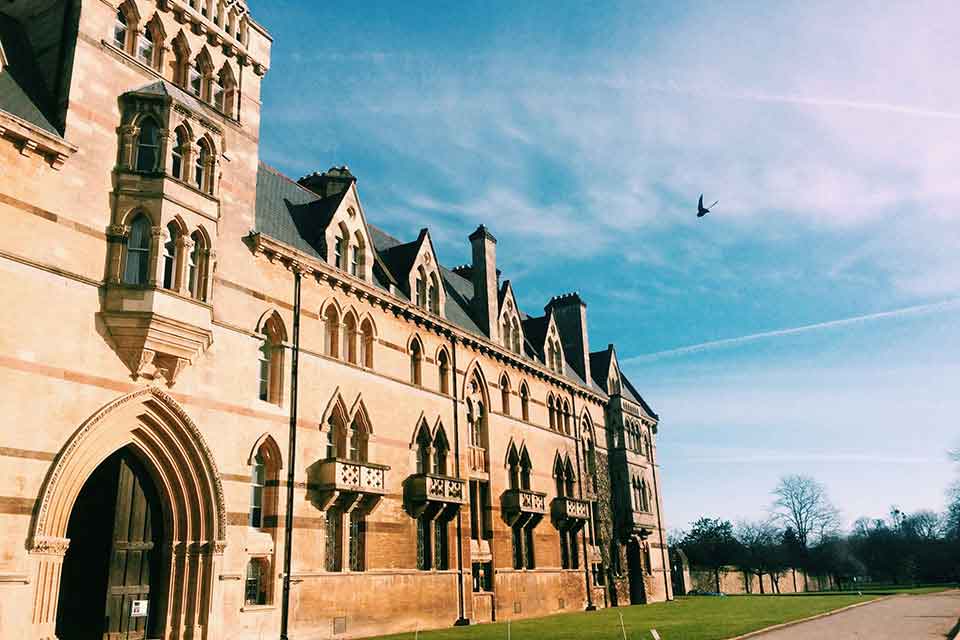 Brandeis University is excited to offer interested students the opportunity to spend a year studying at the University of Oxford in Oxford, England. In addition to benefiting from a rigorous and rewarding academic program, students will be able to further develop their intercultural skills on the historic campus of the oldest university in the English-speaking world. The University of Oxford is comprised of a number of colleges; students apply to a specific college rather than the university. 
Tutorial System
Academics at Oxford are characterized by the tutorial system. Students typically take two tutorials (courses) per term, which generally meet once per week or once every two weeks. These meetings will be held one-on-one or in small groups with a tutor (professor). The tutorial system is best for students with a high level of discipline and a passion for independent study, who are interested in delving more deeply into subjects of which they have a solid understanding.
Choosing a College
Although all of the Oxford colleges operate under the tutorial system, some specialize in certain subjects. When choosing a college, it is important to consider not only the academic subjects available for visiting students, but the overall experience. The size of the college, its location within the city of Oxford and the housing options available there are all things to think about when selecting a college. 
Advising Appointments
To speak more about Oxford, please schedule an appointment with an advisor.
The Brandeis study abroad deadline for Oxford University is Wednesday, Jan. 10, 2024.
With a history dating back 800 years, Hertford's academic excellence is framed by a commitment to fairness and opportunity. Through their deep focus on teaching and research, Hertford fellows and lecturers are world leaders in their fields. Among their notable alumni, Hertford can count Jonathan Swift, author of "Gulliver's Travels," World Wildlife Fund founder Gavin Maxwell and Dom Mintoff, former Prime Minister of Malta. A shared sense of community between staff and students creates a welcoming learning environment for students.
Dating back as far as the 1190s when St. Edmund of Abingdon taught in a house on the site of the last surviving educational medieval hall that predated the University of Oxford, St. Edmund Hall was chartered as a college in 1957. At St. Edmund Hall, your academic development will be fostered by the highest expectations of your studies, support for your welfare and encouragement of your creativity. St. Edmund Hall encourages intellectual curiosity and debate, adventurousness and the exchange of ideas between disciplines. St. Edmund Hall's alumni have achieved great success in varied fields, which include Ivan Gazidis, CEO of Arsenal Football Club, Douglas McCallum, senior vice president of eBay Europe.
In 1878, Lady Margaret Hall was founded and changed Oxford University for ever. It opened Oxford to women for the first time. They were pioneers and broke boundaries, going on to lead remarkable lives, such as founding Save the Children and becoming the first female president of the British Medical Association. Lady Margaret Hall began with nine women and is now a vibrant academic community transforming the lives of hundreds of students. We are diverse, open, intellectually curious and pioneering. We continue to break boundaries as the first Oxford College to establish a Foundation Year for under-represented students.
Note for International Students
For applicants who are not from an English-speaking majority country or have not been solely educated in English throughout the past two years at the time of application (educated in English for 2 years by January deadline), we are required by the Home Office and Oxford University to assess your English language ability.
All teaching at Oxford University is carried out in English (with the exception of some language-specific teaching), and tutors must be convinced you have sufficient fluency in written and spoken English to cope with your course from the start. Therefore, the University of Oxford requires the following from a non-native English-speaking applicant: IELTS: overall score of 7.5 (with at least 7.0 in each of the four components) or TOEFL (internet-based): overall score of 110 with component scores of at least: Listening 22, Reading 24, Speaking 25 and Writing 24.
For more information, please visit the University of Oxford's English language requirements website.