Financial Overview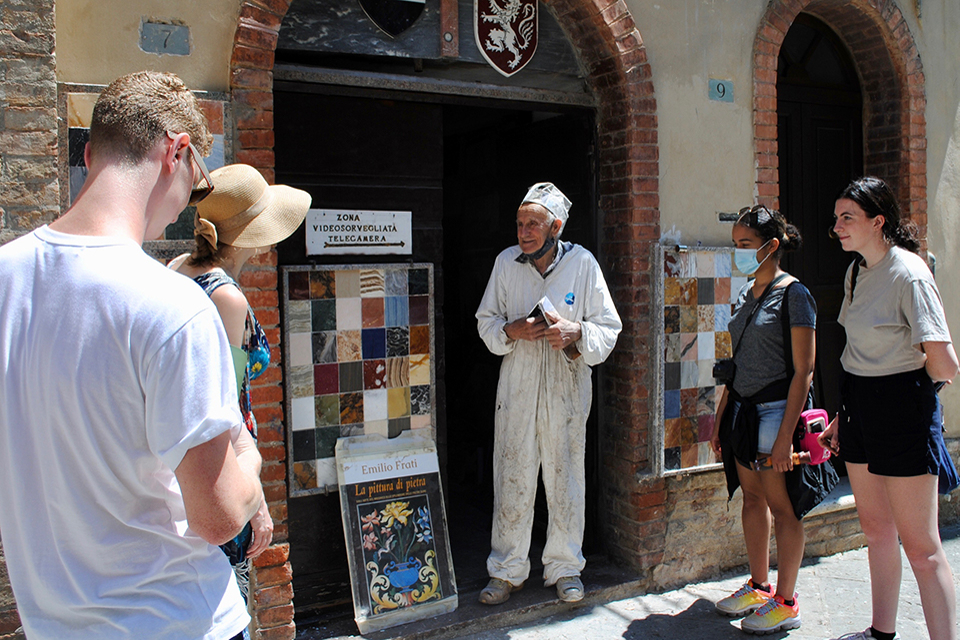 The Brandeis in Siena Summer program costs are outlined below. Please note that Brandeis University reserves the right to adjust its fees in the event of significant change in exchange rates or other factors beyond its control. During the course of program operations, actual figures may vary. It should not, therefore, be used as a basis for calculation of refunds. Brandeis University reserves the right to adjust fees at any time.
Summer 2023 Program Cost: $9,000 (Summer 2024 Cost TBD)

Included in costs:
Tuition for two 4-credit courses
Program housing
Orientation
A range of field trips
Local cell phone to borrow (if necessary)
Transportation for local program related academic and extracurricular activities
Comprehensive International Health Insurance (CISI)
Emergency medical evacuation insurance coverage, including a 24-hour traveler's assistance help-line
Estimated Additional Expenses: $2,300

International airfare - $1,250
Short stay Schengen visa - $93.60
Local personal transportation and entertainment - $300
Local cell phone plan - $50
Meals - $650
Books and art supplies - $100
Additional Funding Opportunities
Federal Pell Grants can sometimes be applied to summer study abroad. For more information, please speak with the Office of Student Financial Services.
You are encouraged to consider applying for a scholarship from the Fund for Education Abroad. More information is available at this link. Applications are due in January 2024.
Some students may be eligible for the Stacey Scholarship Fund at the National Cowboy & Western Heritage Museum. More information is available here and applications are due on February 1, 2024.
Do you receive a Federal Pell Grant? You are strongly encouraged to apply for the Benjamin A. Gilman International Scholarship. More information is available here and applications are due in March 2024. Students with a strong interest are encouraged to apply by the early deadline in October 2023.
Students are encouraged to enter the 1st-Art-Gallery.com Annual Scholarship Competition. More information is available here.
Some students may be eligible for the Against the Grain Artistic Scholarship for U.S. citizens and permanent residents of Asian and/or Pacific Islander heritage. More information is available here.
Some students may be eligible for the CBC Spouses Visual Arts Scholarship for U.S. citizens who are African-American or black and who live in the district of a member of the Congressional Black Caucus, including all residents of New Jersey and Georgia. More information is available here.
The J. Scott Van Der Meid Memorial Scholarship, offered by the Siena Art Institute and named in memory of the former Associate Dean of Study Abroad at Brandeis, is a highly competitive scholarship that covers the full cost of tuition and housing on Brandeis in Siena. Students remain responsible for the cost of the flight, meals, visa, and other possible incidental expenses. This scholarship is open to students receiving need-based financial assistance at Brandeis and applications are submitted as part of the application to the program. Questions can be directed to Ari Kramer.
Remis Summer Study Grants are for current first-years (rising sophomores), current sophomores (rising juniors), and current juniors (rising seniors) who have declared a major in the Fine Arts. Students can apply through the Brandeis Fine Arts Department for The Remis Grant as possible funding for the Brandeis in Siena program.
Siena Need-based Travel Grants are available to Brandeis students. There are limited funds so the amount of aid an individual will receive will depend on the number of students requesting aid. Typically a travel grant will be awarded for $300 to $1,000 per individual. These grants may be applied for during the program application process.
Additional scholarships for study abroad may be available from a variety of organizations and institutions. Please visit this page on our website for a growing list of scholarships for which you may be eligible.
Do you have a scholarship you wish to promote to students on Brandeis in Siena? Please contact Ari Kramer to have it added to this list.
Additional Questions?