Profile: Estie Martin '14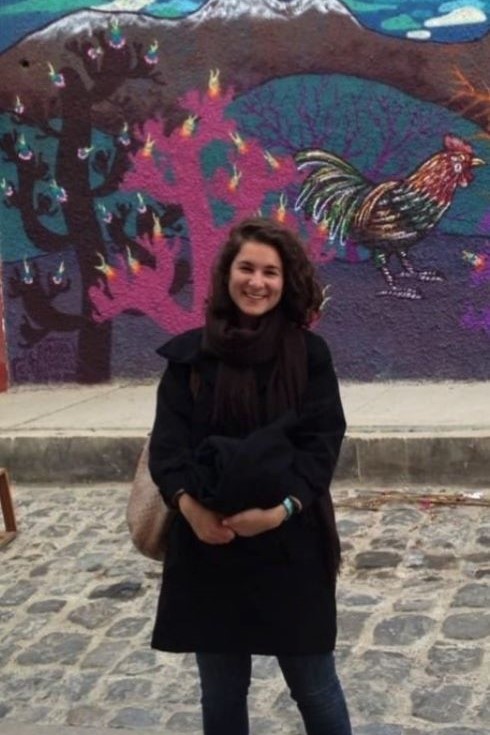 Majors: Anthropology and Fine Art
Study Abroad Program: IFSA Santiago, Chile
Current Job/Graduate School/etc.: Occupational therapist
Why did you originally choose to study abroad in Santiago? I chose Santiago because I knew I wanted the chance to immerse myself in a new city by taking classes at a local university and living with a host family. The IFSA program was a perfect mix of a small, intimate program with many supports within a large, urban city where there was a lot of opportunity for individualization and independence.
What have you been up to since graduation? After Brandeis, I took a few years off to work in community programs with individuals with developmental disabilities before going back to grad school in 2016 for my doctorate in occupational therapy from BU. I have also been teaching art in different venues and programs. I am currently an occupational therapist working in inpatient mental health for children and adolescents at a community hospital in Cambridge, Massachusetts.
What lessons or skills did you learn from studying abroad that you still think about today or still impact you today on your current path? Being abroad taught me some of my most valued skills: how to enjoy my own company and carve out my own path in a new place. Despite being part of a community with my peers from the program, my experience was much more independent than I was expecting, but it led me to discover how to feel at peace going my own way.
I took art classes in local community centers, I spent afternoons by myself at museums, and I connected with other foreign students who were just as lost and overwhelmed in a new space as I was. I even ended up teaching an art class for mothers of children attending an enrichment program, which was highly influential in my career trajectory. Studying abroad was challenging and lonely at times, but I feel like it caused me to grow immensely, and I'm not sure who I would be without that experience.
One memory from abroad that still feels like it happened yesterday: Meeting up with a friend at a morning flea market in a new part of the city. We picked up Nescafe coffees from a convenience store and wandered around an artisan market on a cool, summer morning. We ran into people we knew and felt at home.
Your message to students thinking about studying abroad: Do it, even if you're scared.
"Studying abroad was challenging and lonely at times, but I feel like it caused me to grow immensely, and I'm not sure who I would be without that experience. "
Estie Martin '14