Profile: Goldie Davoudgoleh BA '20, MA/MBA '22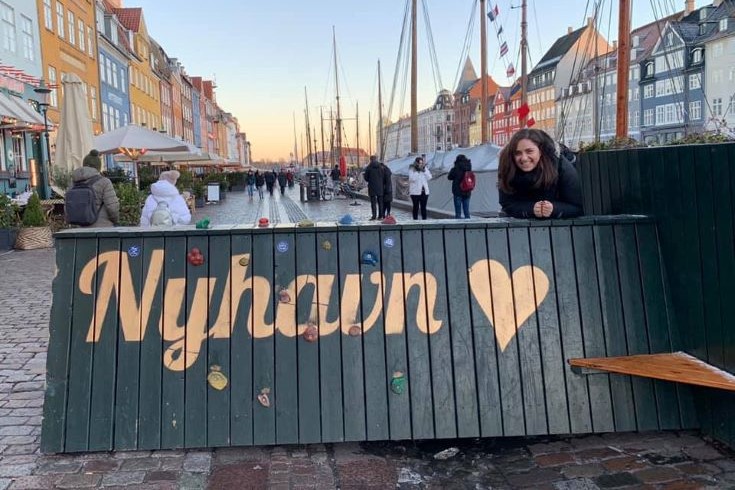 Majors: Anthropology and Near Eastern & Judaic Studies
Study Abroad Program: DIS Copenhagen, Spring 2019
Graduate school: Currently in my final year of graduate school at Brandeis' Hornstein Jewish Professional Leadership MA/MBA Program, in conjunction with the Heller School for Social Policy and Management.
Why did you originally choose to study abroad in Copenhagen? I chose to study abroad in Copenhagen because DIS Copenhagen provided me with the opportunity to explore anthropology-related topics there that weren't offered back on campus, in particular communications and media through a global and multi-cultural lens. I also wanted to be able to strengthen my independent skills, learn how to get around a new city, and make a new place feel like home, especially around Jewish holidays and Shabbat.
What have you been up to since graduation? Since graduation, I have spent the last year and a half pursuing a dual MA/MBA degree through Brandeis' Hornstein Jewish Professional Leadership Program and the Heller School for Social Policy and Management. I also completed fieldwork with the Joint Distribution Committee in New York and the Mandel Center for Studies in Jewish Education at Brandeis.
What lessons or skills did you learn from studying abroad that you still think about today or still impact you today on your current path? From my time in Denmark, I learned how to establish a healthy work-life balance, making sure I not only got my school work done in a timely manner, but also made time for the everyday items I needed to accomplish and the extraordinary things I wanted to explore and experience. These skills definitely helped me adjust to life in graduate school and will continue to guide me as I transition into post-graduate work next year.
Additionally, I learned the Danish concept of "hygge," which translates directly to "comfy" or "cozy." In action, hygge means finding time for relaxation, enjoyment and contentment with important people in your life. I take this Danish lesson with me in my everyday life as I try to incorporate hygge moments into my time with family and friends.
One memory from abroad that still feels like it happened yesterday: While I was in Copenhagen, I was connected with a visiting host family that lived just outside of the city. I would meet with them every few weeks for dinner or an activity, and it was a really great way to have a personal connection to a Danish family and learn about the culture through their eyes. It was also particularly meaningful because I was not only able to learn from them, but I was also able to teach them about my Jewish upbringing and practices.
One of my fond memories with them was when my family came to visit me in Copenhagen. My visiting host family spent the day with us in the city, showing us around to their favorite spots and getting to know each other. We had a blast all together! I still connect with them every few months over FaceTime to catch up, which is very special.
Your message to students thinking about studying abroad: When considering where to study abroad, think about pushing yourself out of your comfort zone and trying something new! I was deciding between studying in Copenhagen and another city in which I had spent time before, but I ended up choosing Copenhagen because I wanted to create new connections and make a new city feel like home. If you are contemplating between two cities in a similar situation to mine, I would encourage you to be bold and choose the option that will allow you to grow the most.
"From my time in Denmark, I learned how to establish a healthy work-life balance, making sure I not only got my school work done in a timely manner, but also made time for the everyday items I needed to accomplish and the extraordinary things I wanted to explore and experience. "
Goldie Davoudgoleh '20