Profile: Jennifer Mandelbaum '14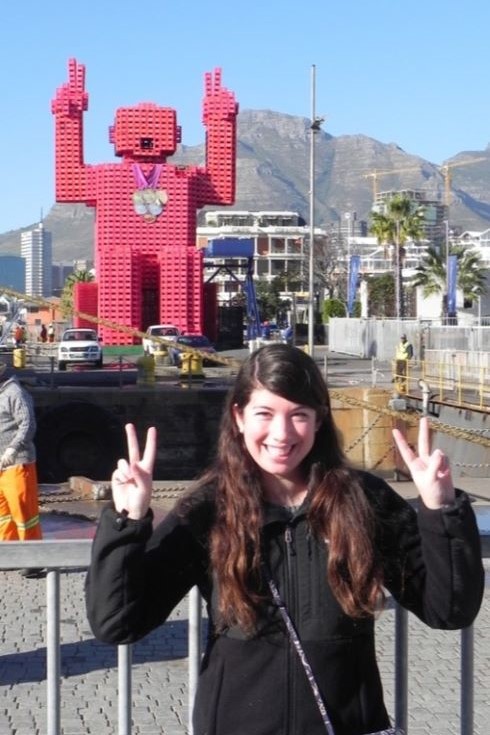 Majors: Health: Science, Society and Policy; Sociology
Study Abroad Program: CIEE Service-Learning at University of Cape Town
Graduate School: PhD candidate, Health Promotion, Education, and Behavior, University of South Carolina
Why did you originally choose to study abroad in Cape Town, South Africa? I wanted to engage in valuable hands-on service work, gain an appreciation for the diverse culture and history of Cape Town and South Africa as a whole, and conduct meaningful independent research related to public health in Cape Town. I am always looking for creative ways to bridge the gap between theory and practice, and the service-learning program allowed me to do that by connecting with community partners.
What have you been up to since graduation? I earned my MPH in social and behavioral sciences and global health from Yale University. Prior to my doctoral studies, I worked on various projects related to global health, including a case study on a childhood obesity prevention initiative in Brazil and an intervention to improve outcomes for patients with acute myocardial infarction in U.S. hospitals.
What lessons or skills did you learn from studying abroad that you still think about today or still impact you today on your current path? I developed my social science research skills by exploring Cape Town case studies, building relationships with local service organizations, and conducting independent research. Having this experience in global health as an undergraduate provided me with a solid foundation for future global health work early in my career.
One memory from abroad that still feels like it happened yesterday: A spring break trip the Okavango Delta in Botswana.
Your message to students thinking about studying abroad: Studying abroad helps you become a "global citizen." You better understand and are willing to learn about other cultures.
Brandeis Study Abroad Account
Contact Us
Usdan 169, MS 073
Brandeis University
415 South Street
Waltham, MA 02453
781-736-3483
abroad@brandeis.edu
"Having this experience in global health as an undergraduate provided me with a solid foundation for future global health work early in my career."
Jennifer Mandelbaum '14