Profile: Maya Fields '19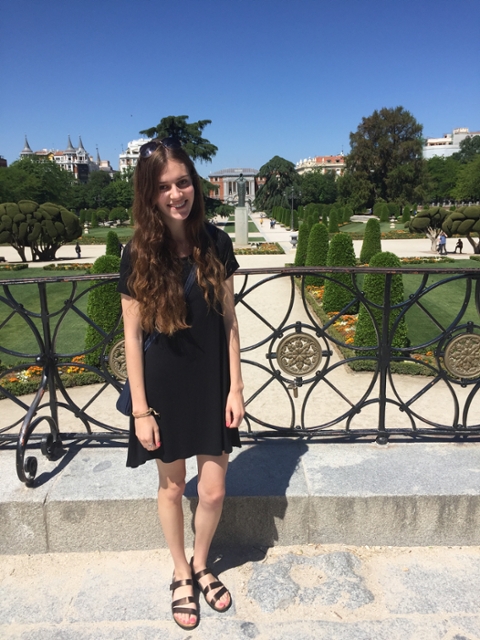 Majors: Health: Science, Society, and Policy (HSSP) and minors in Hispanic Studies and Anthropology
Study Abroad Program: Boston University Madrid Summer Internship Program
Current Job/Graduate School/etc.: Currently a second-year in the Doctorate of Occupational Therapy Program at the Massachusetts General Hospital Institute of Health Professions
Why did you originally choose to study abroad in Spain? I was looking for a summer program in a Spanish-speaking country that had housing with local homestays, as I wanted to be fully immersed in the language and culture. I also was hoping to fulfill some requirements for my major and minor. This program met all of my desires, as I stayed with a homestay, took a class that fulfilled a requirement for the Hispanic Studies minor, and completed an internship that fulfilled the hands-on experience component of the HSSP major.
What have you been up to since graduation? After graduation, I took a gap year as I applied for graduate school. During this time, I worked as a toddler teacher at a preschool and took a couple prerequisite courses needed for my program. I am currently a second-year student at the Doctorate of Occupational Therapy Program at the Massachusetts General Hospital Institute of Health Professions, where I am expected to graduate in May 2023.
What lessons or skills did you learn from studying abroad that you still think about today or still impact you today on your current path? My internship abroad at a day program for adults with disabilities helped spark an interest in working in a therapy setting with this population. This experience was incredibly rewarding, as I learned about hands-on patient care, formed close relationships with the clients, and experienced holistic health. Soon after studying abroad, I realized I had an interest in pursuing Occupational Therapy, and my experiences during my internship certainly aided in discovering this passion. My study abroad experience as a whole also allowed me to gain skills in communication, independence and advocacy, all of which I continue to use today.
One memory from abroad that still feels like it happened yesterday: My friends and I took a weekend trip to San Sebastián, Spain. After a long and exhausting day of traveling, we stopped at the Comb of the Winds, which refers to a collection of sculptures embedded in natural rocks in the sea. We all sat and watched the waves crash into the rocks, taking in the view while relaxing for a few moments. I reflected on my time studying abroad, my college experience, and the friends I had made, among other things. This powerful experience has stuck with me ever since, and I remember it vividly.
Your message to students thinking about studying abroad: If you are contemplating whether or not to study abroad, I highly recommend it! It is so different than simply visiting a place on vacation. Immersing yourself in the language and culture for a longer period of time makes the experience so special. I especially enjoyed my homestay and internship, as through these experiences I improved my language skills and formed meaningful relationships.
Also, if you are nervous to study abroad for a whole semester, then you should consider a summer program. Since I was hesitant to go abroad for a semester — mostly because I loved being on the Brandeis campus so much — I chose to go abroad for a summer.
"I especially enjoyed my homestay and internship, as through these experiences I improved my language skills and formed meaningful relationships."
Maya Fields '19