Profile: Sara Kenney '18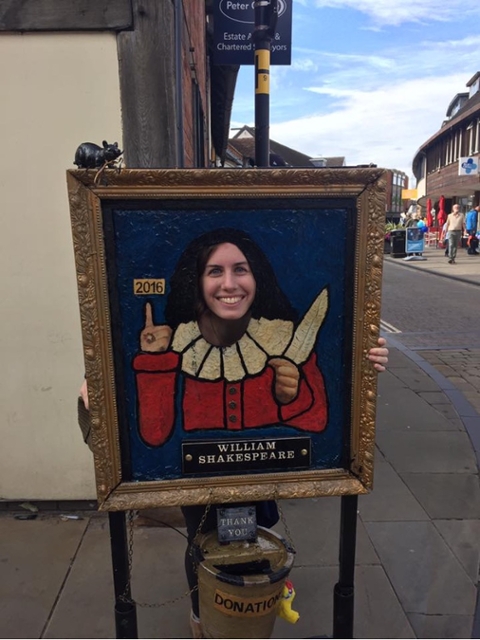 Majors: Theater Arts; Minor in Medieval and Renaissance Studies
Study Abroad Program: British American Drama Academy (BADA) in London, England through Sarah Lawrence College.
Current Job/Graduate School/etc.: Prop artisan and house manager in theatre and film industries.
Why did you originally choose to study abroad in the UK? I was looking for a rigorous conservatory-style program outside of the more liberal arts-oriented program that Brandeis's theater department offered. The opportunity to immerse myself in Shakespeare, dramatic criticism, and classical acting was something I seriously wanted. London famously subsidizes its art industry as well, and while there, I knew I would be able to see a ton of amazing theatre productions at a fraction of the cost of theatre in the U.S.
What have you been up to since graduation? I've had a really exciting career as a props artisan in theatre and art assistant in film. I've continued to perform when I can and have also worked as a head house manager at a regional theater company in Boston. I make a lot of my own work, too. When I'm not working in the arts (to pay the bills in between gigs!), I am an administrative coordinator on a temporary basis at various companies and universities in the Boston area.
What lessons or skills did you learn from studying abroad that you still think about today or still impact you today on your current path? Going into a conservatory where I was in class 40 hours per week told me what I wanted from a life in the theatre and what I didn't want, or what parts of it mattered to me and enthused me more than others. It led me to appreciate a holistic approach to understanding theatre and art — how we approach a production, perform it, interpret it, and design it — and not silo myself into a particular path. The joy of my abroad experience centered around experiencing a level of rigor that prepared me for how intense, and sometimes unforgiving and difficult, but also rewarding, a theater career can be. Sometimes during study abroad, I would get so trapped in my own overthinking, but over the 13 weeks, I learned how to find joy and balance in my performance projects and interpretation. That balancing act — seeing joy and humor within challenges — is something that I remind myself to do on every project!
One memory from abroad that still feels like it happened yesterday: I can't believe it happened, but I met a scenic designer, Bob Crowley, whose scenic design of "The Glass Menagerie" at the American Repertory Theater changed how I thought about design in high school. His set totally blew my mind, and so much so that I wanted to write him a letter. It was the first time I had really seen a design thoughtfully reflect the kernel of what a play was about. In London, we had a surprise master class with him and got to sit down and ask him questions for an hour. I was so moved that I ran into him three years after seeing his work, I cried immediately afterwards! I also met Fiona Shaw (of "Harry Potter" film fame, among many others) and saw Ian McKellan and Patrick Stewart perform live onstage. All of it feels like a fever dream, but so close and familiar at the same time.
Your message to students thinking about studying abroad: Don't let a "fear of missing out" stop you from going. You'll meet so many people and be wrapped up in so many adventures, if you allow yourself to. Don't keep thinking about what's still at Brandeis; it'll be waiting for you when you get back. A semester moves by quickly.
"The joy of my abroad experience centered around experiencing a level of rigor that prepared me for how intense, and sometimes unforgiving and difficult, but also rewarding, a theater career can be. "
Sara Kenney '18