Profile: Sophia Kupervaser-Gould '19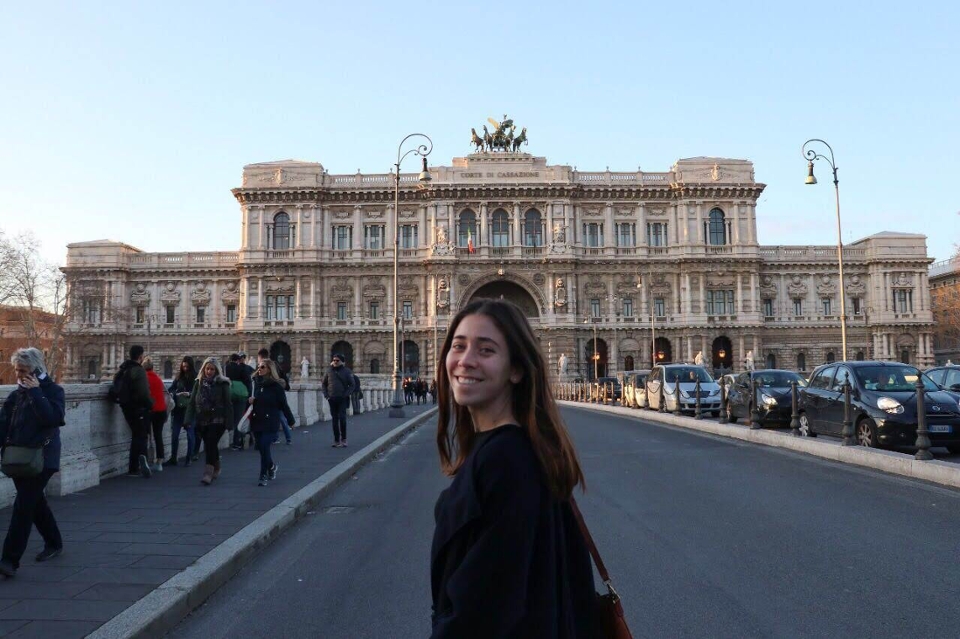 Graduation year: 2019
Majors: Anthropology, International and Global Studies, IIM in Italian Studies
Study Abroad Program: IES Rome, Fall 2017-Spring 2018
Why did you originally choose to study abroad in Italy? I was born in Rome, Italy, and lived there for a few months as a baby. Before study abroad, I knew I wanted to somehow form a deeper connection to my birthplace. When it was time to choose a location and program, I realized that studying abroad was the perfect opportunity to truly experience Italy. I started taking Italian classes at Brandeis and quickly fell in love with the language and the aspects of Italian culture we learned about in class. I also considered Siena, Italy, but knew I would prefer a big city and that I couldn't pass up the opportunity to live, study and work in Rome.
What have you been up to since graduation? After an arduous summer of job applications, I accepted a job as a junior account manager at MAK Technologies (formally VT MAK) and started August 2019. MAK is a modeling and simulation software company based in Cambridge, Massachusetts, that specializes in virtual training, R&D virtual prototyping and more. At MAK, I was lucky enough to be a part of an amazing and hardworking team and helped customers in the U.S. and Canada reach their simulation goals. In June 2021, I decided to switch gears and focus on grad school. I am currently working part time and applying to schools from my home in Buenos Aires, Argentina.
What lessons or skills did you learn from studying abroad that you still think about today or still impact you today on your current path? Trust your gut and take chances. Before choosing to study abroad I thought long and hard about what it would mean to be so far from Brandeis for 1/4 of my college experience. There were friends I wasn't going to see for a year, classes I was going to miss out on, and on-campus and club opportunities I was never going to experience. In the end, the reward was as great as the risk as I was able to take more of the classes I liked abroad, strengthen my Italian language skills and work an internship at the Fondazione Olivetti during my second semester. I left Rome feeling confident I took full advantage of my study abroad opportunity and excited to go back to Brandeis to start my thesis and finish my final year equipped with the tools I learned abroad.
One memory from abroad that still feels like it happened yesterday: It's hard to choose just one! I will never forget was when I drove across Sicily from Palermo to Agrigento to visit the Valley of the Temples with friends from IES, Emily and David, blasting Pink Floyd and the Grateful Dead the whole ride down. Another great memory is the snowfall of February 2018. It was Rome and the Vatican's first snow in six years! People were everywhere taking in the city in its rare state, school was canceled (even though it only snowed a few inches), and everything from the colosseum to the river bank was covered in a thin layer of snow. It was pretty surreal!
Your message to students thinking about studying abroad: Try and travel within the country as much as you can — get to know as many regions, coasts, cities and towns as possible and you'll end your abroad experience with a rich understanding of the country you choose. If possible, opt for the host family living option to learn even more about the local lifestyle, and meet wonderful people who are kind enough to open their home to you and provide an even deeper connection to your abroad experience. I highly encourage anyone applying to consider doing a full year abroad. There are few things more gratifying than being able to walk around your abroad city without the help of a Maps app, experiencing the city you chose during all four seasons, or getting to the point where you know just the places to grab a quick bite after work or the best cappuccino in the morning.
"There are few things more gratifying than being able to walk around your abroad city without the help of a Maps app, experiencing the city you chose during all four seasons, or getting to the point where you know just the places to grab a quick bite after work or the best cappuccino in the morning. "
Sophia Kupervaser-Gould '19