Profile: Aileen Cahill '23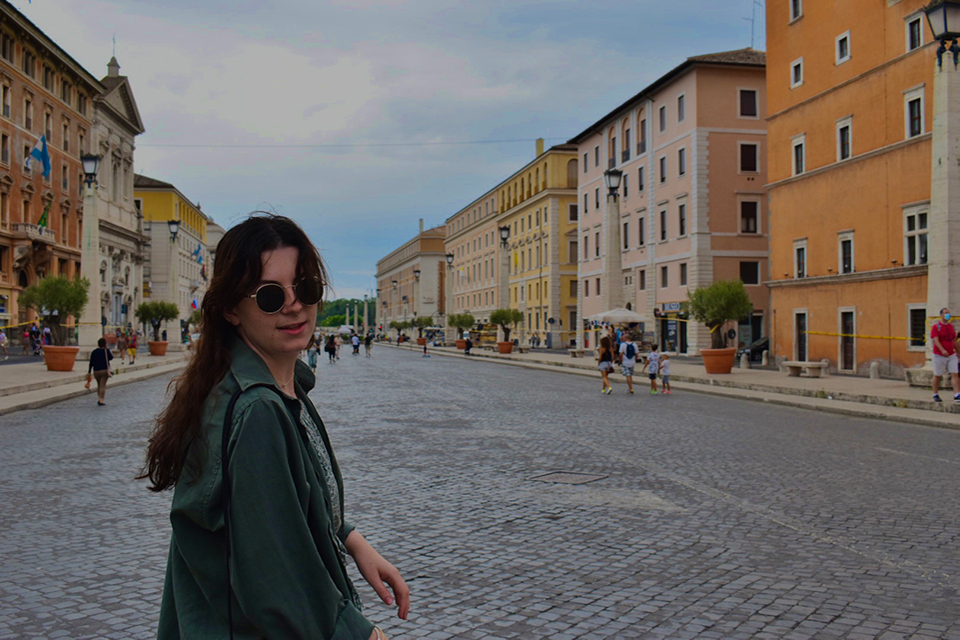 Major/minor: Art History, Education Studies, and English
Study abroad program: Brandeis in Siena, Summer 2021
Reason you chose this program:
Brandeis in Siena helped me stay on track to finish my three majors without needing an extra semester. Beyond that, it is a great program to study Italian art without needing to know the Italian language. I wanted to be able to go in-depth into a particular period of art, and I was able to do that while standing in front of it. The significance of being able to experience art in person when you study art history cannot be understated. I knew this program would help me be immersed in art in a way that most classes at Brandeis cannot.
Favorite classes: The Early Renaissance Art in Tuscany course was one of the best art history courses I've taken. It was incredible to be able to experience studying art in a way that was not staring at slides on a screen. Art history is more than just memorizing dates and artists; it is anthropology, learning social dynamics, studying political history, looking at art in a context. Being able to live in Tuscany helped me understand why the art and architecture of the region developed the way they did.
How did you incorporate your Brandeis areas of study into your study abroad experience? I am an art history major which means I need to take not only specific art history classes but also studio art classes. While I am not particularly experienced in studio art, learning how to paint gave me a new perspective on how I look at and appreciate art. It doesn't matter how many times you read that oil paint is translucent and thin, or how many times you hear about the importance of white gesso, or how impressed the world is by Velazquez' use of a single-hair brush—it is an entirely different experience feeling the medium in your hands and to feel the excitement of being able to use different brushes.

Housing situation: I lived in an apartment with three other students and we shared two bathrooms and two kitchens. The buildings are centuries old and I had large medieval-looking keys to open doors. I lived on a busy street that was filled with restaurants, cafés, and shops. The city is so small that you can get from one place to anywhere else in the city in about 20 minutes by walking, which made living there incredibly easy.
What were some parts of your identity that you thought about while considering study abroad that other students may want to talk to you about? I am a vegetarian and was nervous about being able to find enough foods in restaurants that I would be able to eat. I found this to be not a problem at all!
Favorite memory: Walking through the streets of Siena at night. It is a walking city meaning there are very few cars, and most restaurants and cafés had tables outside in the street. Walking along any street, even just the one I lived on, was amazing because there were so many people walking, sitting, eating dinner outside. Even though it is a small city, it felt like I could go outside at any moment and feel the energy of the community.
Greatest challenge: The language barrier was tough. It is hard to not feel embarrassed for speaking English constantly, but it was never a huge issue. By the end of the trip, myself and some of the other students were helping other tourists communicate in Italian! It is difficult to not feel isolated socially because even though there are so many people around, they all speak Italian. It is important to rely on other Brandeis students, and even students from other programs in the city who speak English, in order to feel less alone.
What you know now that you didn't know before: Oil paint is superior to acrylic, talk to people—they're friendly, I promise, and don't trust the food in Venice!
Fact about Siena that you think people would be surprised to learn: There are still huge rivalries and bad blood between cities that fought centuries ago—for example, Sienese people hold a grudge against Florentine people because the Medici ended up occupying Siena and taking it under their control. Our art history professor was a proud Sienese man and had to mention "but our tower is taller!" anytime we looked at Florentine architecture.
"Art history is more than just memorizing dates and artists; it is anthropology, learning social dynamics, studying political history, looking at art in a context. Being able to live in Tuscany helped me understand why the art and architecture of the region developed the way they did."
Aileen Cahill '23