Profile: Anna Ginsburg '21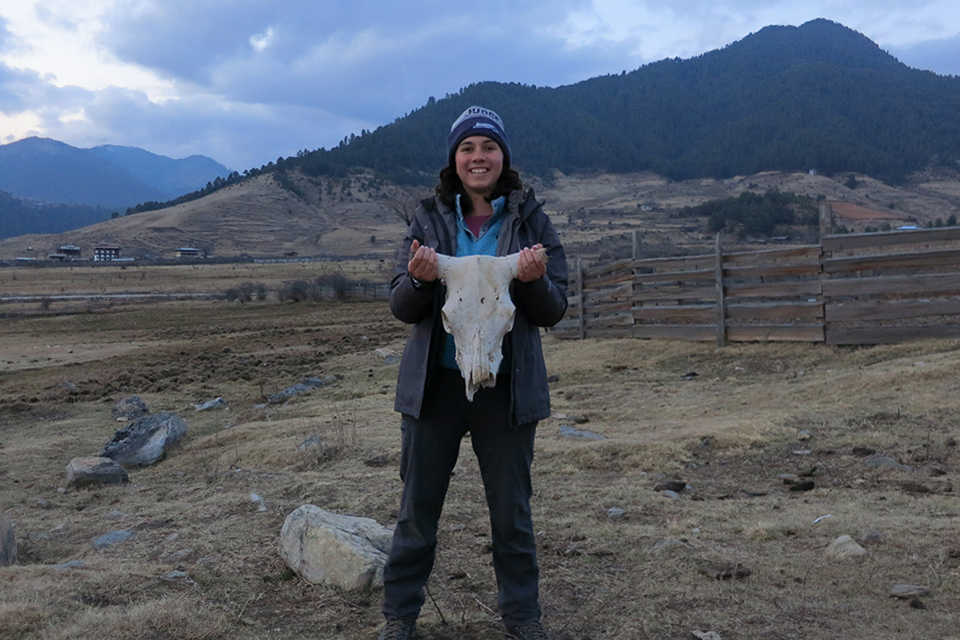 Major: Environmental Studies and Studio Art
Study Abroad Program: SFS/Bhutan: Himalayan Environment and Society in Transition (Spring 2020) & Midyear Program in Florence, Italy (Fall 2017)
Reason you chose this program: For Bhutan, I was excited to have a field-based semester, and to study the environment in a totally different ecosystem! I was also interested in spending time in a country that I was very unfamiliar with, and that was in the process of globalizing while also retaining it's heritage and culture. I also liked how it was program-based (as supposed to direct enrollment) and a small size. For Florence, after I was admitted as a midyear, I considered the option of taking the semester off to work or studying abroad, and I decided to study abroad as it seemed like an exciting way to start of my Brandeis experience and make some new friends! As an artist, it was also rewarding to study art history with the works we studied literally right outside our front door. I also wanted to take the chance to learn a language in the country where it's spoken everyday.
Favorite class: In Bhutan, Political and Socioeconomic Dimensions of Environment and Mountain Ecology. In Florence, Renaissance Art and Architecture and Modern Italian and EU History.
How did you incorporate your Brandeis areas of study into your abroad experience? Both of my study abroad experiences correspond to my majors! Studying abroad in Florence inspired me to pursue studio art, and studying in Bhutan gave me a new perspective on environmental challenges and new ways of thinking about solutions.
Housing situation: In Bhutan, living in the program center (dorm style) with occasional home-stays and camping. In Florence, an apartment shared with other students.
What are some parts of your identity that you thought about while considering study abroad that other students may want to talk to you about? I'm a POC, multi ethnic student, as well as an international student.
Best memory: In Bhutan, sitting with friends around a campfire after spending the day hiking through blue pine forests under the shadow of some of the highest unclimbed peaks in the world.
Greatest challenge: Overcoming homesickness and anxiety being in a new environment.
What you know now that you didn't know before: I know that I want to spend my time working to find creative solutions to problems, and that learning about both your own and other's cultures can be a transformative experience, as long as you keep an open mind.
Facts about Bhutan and Italy that you think people would be surprised to learn: Bhutan has 10 species of wild cat including tigers and snow leopards, and Florence was the first city in Europe with paved streets.
"I know that I want to spend my time working to find creative solutions to problems, and that learning about both your own and other's cultures can be a transformative experience, as long as you keep an open mind."
Anna Ginsburg '21