Profile: Anna Ginsburg '21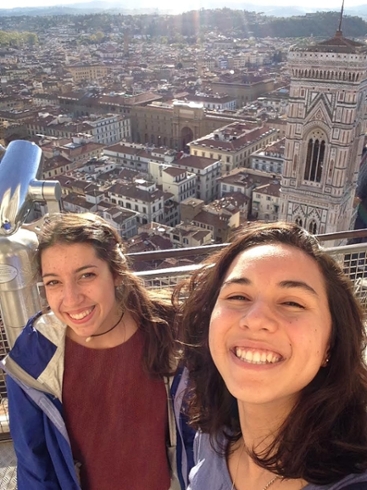 Major: Undeclared
Study Abroad Program: Midyear Program in Florence, Italy (Fall 2017)
Reason you chose this program: I wanted to experience life in Florence, one of the greatest centers of western art, culture and history; and learn about the history of the Renaissance where it all began. And besides, who doesn't want to live in one of the most beautiful cities in the world!
Housing situation: I shared an apartment with two other Brandeis Freshmen, and our neighbors were also Midyears. Every Thursday night, we would have a potluck dinner or try a new restaurant. I even got to know some of our neighbors and became friends with owner of the local panini shop!
Best memory: I went on a weekend trip with some friends to Lucca, a walled city about an hour by train from Florence. We rented bikes to circumnavigate the city atop the walls, which are the only remaining Renaissance walls in Tuscany, and have been converted into a park with beautiful views of the city and surrounding countryside. While biking I swerved off the path to avoid a group of pedestrians, ran over a rock and went flying off my bike. While I was fine, the chain of my bike had come off the gears. While a friend and I struggled to fix it, two elderly Italian men stopped to help. They didn't speak any English and we had to communicate with hand gestures and my beginner's Italian. Eventually we fixed the bike and they waved us off. Even though I ended that day with some scrapes and a bruised knee, I felt like I had seen the best that my host country had to offer — beautiful towns and cities, stunning countryside, and best of all, amazing people.
Greatest challenge: Living in an apartment, I had to cook or buy all my own meals, something I had never had to do before. Fortunately, Italians are proud of their food and you can easily find great produce grown locally, or stop by a café or trattoria for some Tuscan cuisine.
Favorite classes: Renaissance Art and Architecture, European and Italian Politics, and Florence Sketchbook. There is something magical about learning about an art piece in the classroom and then walking past it on the way to the grocery store, or visiting the archives of the European Union in a beautiful 15th-century villa.
What you know now that you didn't know before: Over the course of the semester I learned how to travel on my own steam — navigating the Italian rail system, booking hostels and Airbnb, and dealing with strikes and delays. By December, going on a weekend trip to Ravenna, on the other side of Italy, felt like a piece of cake!
How did this experience impact your arrival at Brandeis in January: I'm so glad that I chose to study abroad my first semester; the experience gave me so much confidence in my ability to take care of myself and make friends that coming to Brandeis in January felt easy! The friendships I forged while abroad also have lasted, and some of my closest friends are those I made while in Florence. I especially appreciated the small size of the program, as I got to know people who I may not have otherwise crossed paths with.
Fact about Italy that you think people would be surprised to learn: To wish someone good luck, Italians say 'In bocca di lupo', which means 'In the mouth of the wolf'. There are also hand signs from everything from 'it's crowded in here' to 'I would like a cup of coffee', which makes communicating a lot easier!
Anything else you'd like to include: As a midyear, I was given the choice of either doing something on my own for the fall, or participating in a study abroad program with other Brandeis midyears in either London or Florence. I decided to take a chance and spend my first semester in Italy, not only as an amazing experience living in a completely foreign culture, but also to get to know some of my future classmates in a unique way.