Profile: Aishwarya Khanna '21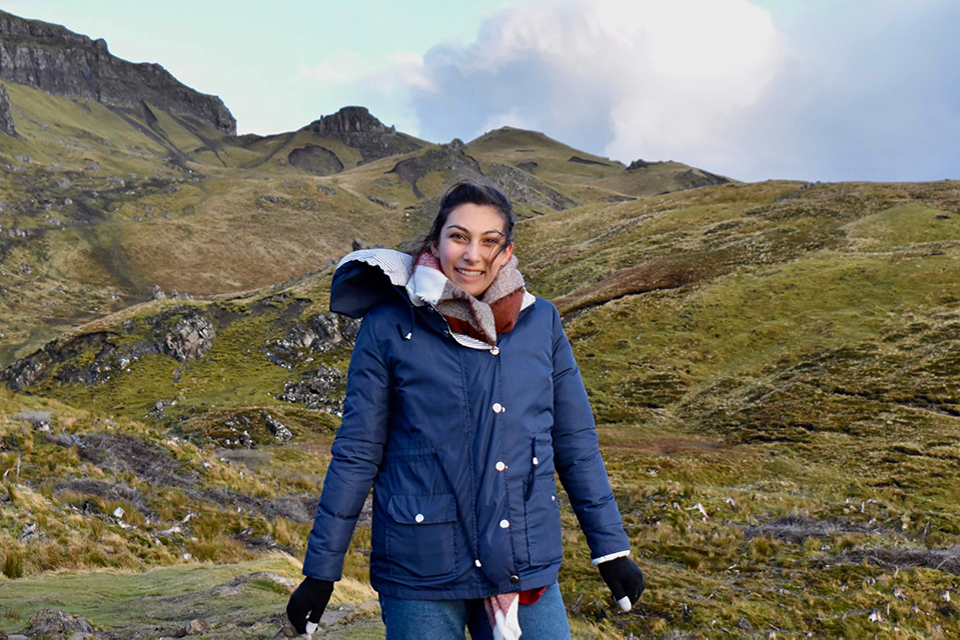 Major/minor: HSSP & Neuroscience
Year abroad: Fall 2019
Study Abroad Program: IFSA/University of Edinburgh
Reason you chose this program: Limited to an English speaking country, I knew Scotland had a good balance to offer of a city life, rural areas, and gorgeous natural scenery. Scottish culture and history is rich and I was excited to immerse myself in the Scottish lifestyle.
Favorite classes: Health Systems Analysis
How did you incorporate your Brandeis areas of study into your abroad experience? I took predominately public health-based courses. Most of my classes took on a more global public health perspective, which I appreciated. I feel like I gained a comparative perspective between US-based health systems and other global health systems.
What are some parts of your identity that you thought about while considering study abroad that other students may want to talk to you about? I am of Indian descent and practice hinduism. Scotland and the UK are predominately white, and I did not find a place among the same groups that are available at Brandeis. It was a bit of an adjustment at first, but I didn't find that it negatively impacted my experience in any way!
Housing situation: I lived in on-campus housing. I was in a flat with four other roommates.
Best memory: Too many! Hiking in the Scottish highlands and Isle of Skye, staying with a host family for a weekend in the lake district, ending my experience with a three-week long backpacking trip through mainland Europe.
Greatest challenge: Adjusting to a semester without my Brandeis friends.
Did you apply for any scholarships? Yes, I do not remember which scholarship I received, but I was able to pay for my housing in full.
What you know now that you didn't know before: I am a pro at learning a new cities public transport system now. And learning how to use maps!
Fact about The Netherlands that you think people would be surprised to learn: Scotland and England have a big rivalry even though both are part of the UK!