Profile: Carmen Huang '20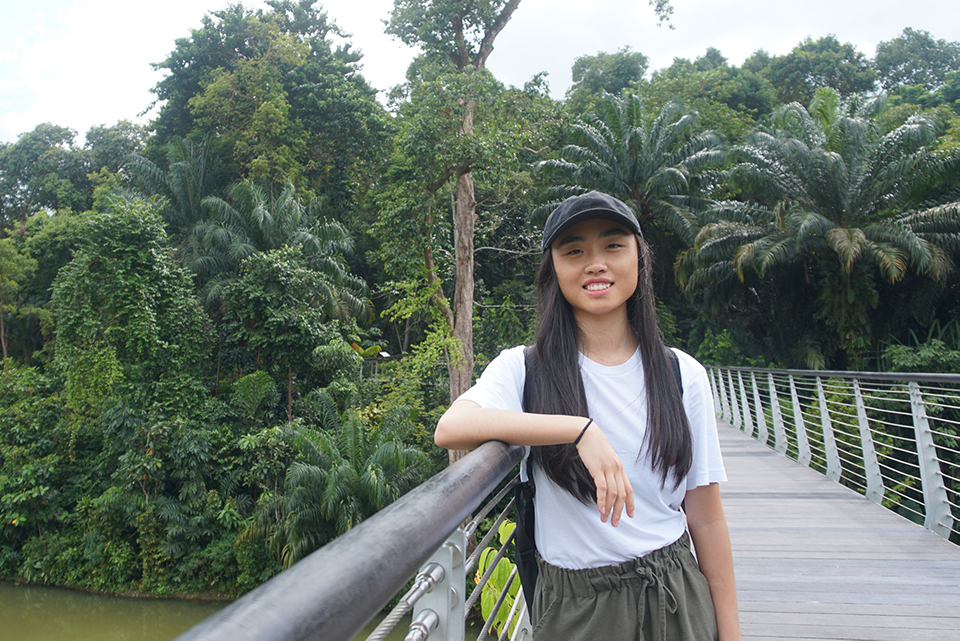 Major/minor: Business and Economics major
Year abroad: Spring 2019
Reason you chose this program: When I was researching for an ideal study abroad location, I knew I wanted to return to Asia. Singapore, to me, has always been a portal to a world of heritage. It has a multiracial and multicultural population of Chinese, Malay, Indian, Peranakan, Nepali, Tamil and many more. I specifically chose Singapore Management University (SMU) because it is a direct enrollment program that offers a more independent and immersive experience, allowing me to take classes with local students.
Favorite classes: My two favorite classes at SMU are International Business and Health Economics. International Business is a class that studies the objectives and strategies used by multinational organizations when they expand overseas. The professor for this class is a seasoned professional who currently owns an online restaurant reservation company. Her experience in the corporate world and entrepreneurship gave me an insider perspective on how a local Singaporean business operates and internationalizes.
Another class I enjoyed is Health Economics. Through this class, I learned about how the Singaporean health care system works in comparison to other countries. I also got to work on a semester-long project with local students to research and pitch recommendations to Sanofi, a French multinational pharmaceutical company, regarding issues on a common skin disease. All of these are valuable experiences which I greatly cherished!
Housing situation: SMU does not provide housing for exchange and visiting students but they do provide a list of recommended accommodations. After you get accepted into the program, SMU would put you in a Facebook group with other exchange and visiting students so you could find roommates. The two most common accommodations are hostels and apartments. I lived in a six-person apartment that was a five-minute walk from the school, which was very convenient. My advice for people looking for housing is to start as soon as you got accepted into the program! Looking for housing on your own might seem daunting at first, but this experience certainly gives you a greater control and more independence on how you want to customize your housing situation!
Best memory: One of the highlights of my study abroad experience is not necessarily a specific event but the conversations I had with local and international students. Through the host and buddy program at SMU, I met people from all over the world — France, Poland, Italy, Germany, Malaysia and Korea to name a few. We spent hours talking about the differences and similarities between our cultures, academics and government systems. We shared our values, our motivations, and our goals. These meaningful stories and conversations are what epitomized my overall experience, which is to listen, to share and to learn.
Greatest challenge: My greatest challenge abroad is defining my identity as an Asian American. In the U.S., I have always embraced my Asian values and enjoyed sharing my culture with others. But in Singapore, which is an Asian-dominant country, I no longer emphasize myself as an Asian but more as an American. When professors in classes asked me to share my opinion, I was speaking from an American perspective. This switch of emphasis on my identity, as first, was a little odd to me. For the first time, I reflected on what it means to be an American. I came to realize that sometimes I must step outside of my own country to see who I really am.
Did you apply for any scholarships? If so, which ones and how did they impact your time abroad? Yes! I received the Brandeis Sachar Study Abroad Scholarship, HI USA Explore the World Travel Scholarship, and the Gilman Scholarship. Studying abroad is an unconventional and foreign concept to my family because no one had done it before. As a first-generation college student from an immigrant household, I cherish every opportunity I get to alleviate my parents' financial burdens. Thanks to these scholarships, I was not only able to achieve my academic goals but also meet amazing individuals in these scholarship programs.
The HI USA Explore the World Travel Scholarship introduced me to a community of travelers who believe in the therapeutic power of traveling and its ability to foster a deeper understanding of people around the world. The Gilman Scholarship Program introduced me to a community of bright students with aspiring goals from all over the U.S. To all of those students who are thinking about studying abroad — take advantage of all the financial resources available!
What you know now that you didn't know before: Many students (including myself) are hesitant about studying abroad because it is considered a luxurious activity that only well-off students can afford. But the truth is, there are always resources available to help us. Labels, socioeconomic status, or family background should not be liabilities but assets that define who we are and propel us forward. Studying abroad has fundamentally changed my worldview, inspired me to work harde, and increased my confidence. Believe that you can achieve great things and make them into reality!
Fact about (country) that you think people would be surprised to learn: Singapore's Changi Airport has been named the world's best airport for the seventh consecutive year by Skytrax! Singapore Airlines is also ranked #1 for having the best cabin crew in 2019.
"I came to realize that sometimes I must step outside of my own country to see who I really am."
Carmen Huang '20