Profile: Zoila Coc-Chang '18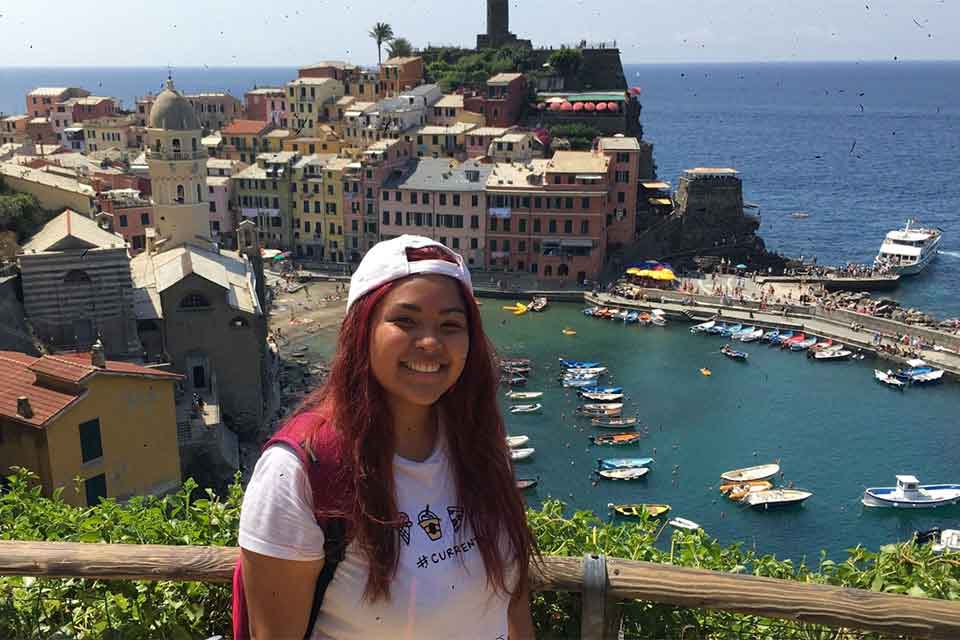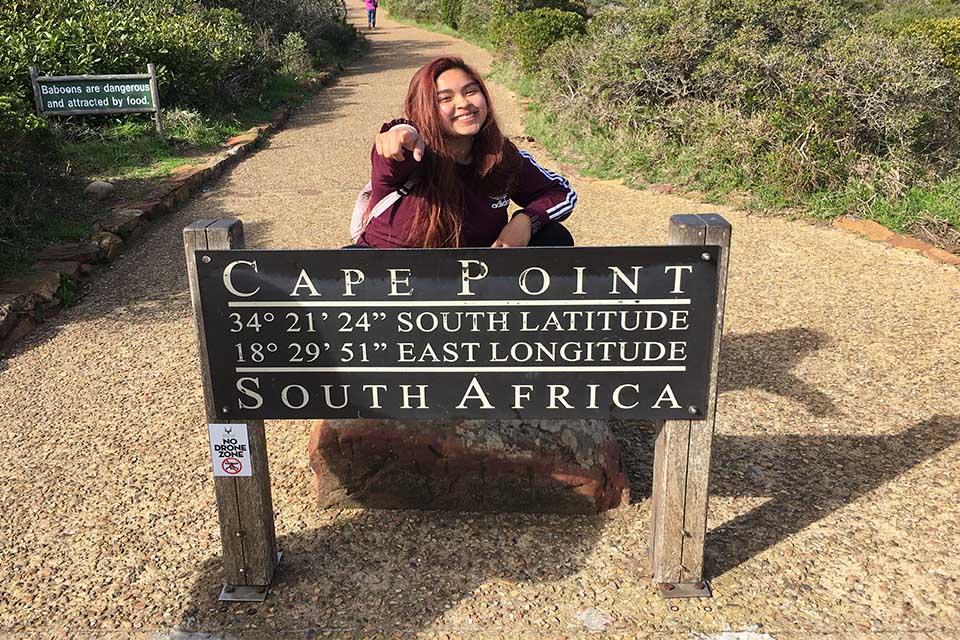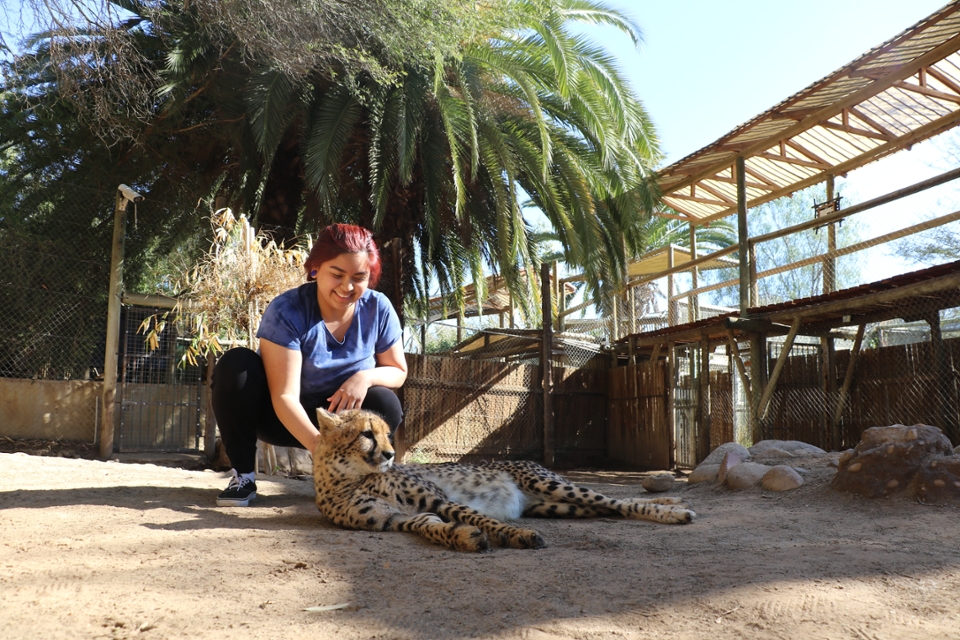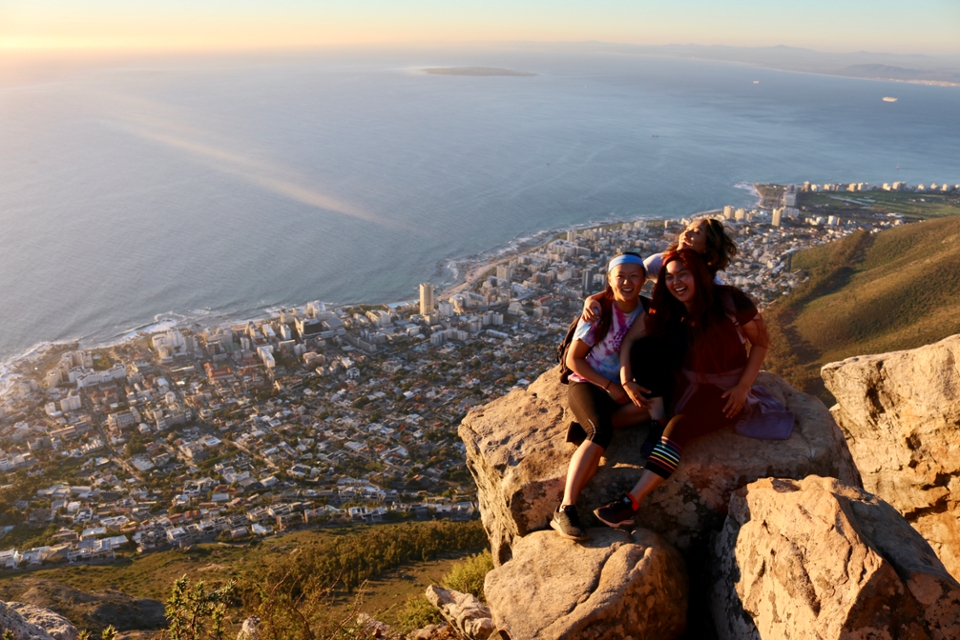 Major/minor: Studio Art and Education Studies major, minors in Art History and Secondary Teacher Education
Study abroad program: Brandeis in Siena, Italy (Summer 2016) and CIEE/ Summer Global Internship Program in Cape Town, South Africa (Summer 2017)
Reason you chose Brandeis in Siena: I needed to fulfill one of my history/studio major requirements so I could make space for my education minors. On top of this, I would get the opportunity to live in a medieval city that was heavily underrated.
Reason you chose CIEE/ Summer Global Internship Program in Cape Town: I chose this program because I was very in love with the idea of Cape Town. My art is highly driven by the places I visit and more specifically, in landscapes. I knew Cape Town was known for its breaktaking scenery, and I honestly had to see it and experience it for myself. I also knew South Africa in general would give me the opportunity to engage in a completely different culture from my own, and that's what I wanted for my next adventure abroad.
Favorite class during Brandeis in Siena: I took a class called Early Renaissance Art in Tuscany from the Age of Dante to the Medici taught by Brandeis professor Jonathan Unglaub. This class was my favorite because of the context that it was taught and professor Unglaub himself. What we learned in class was relevant to our study abroad city and country which made it easier for me to draw connections especially since we would be visiting the sites of most of the works and artists we discussed in class.
Professor Unglaub is very passionate about the course topic and provided a lot of insight that made the class and field trips all the more memorable. English-speaking tourists would even leave their families, husband/wife or tour guide just to listen in on Ungalub's on-site lectures because they were that captivating.
Favorite class in Cape Town: I went on an internship program so I don't have a favorite class to share, but I can definitely say that I loved my two internships! I briefly interned for Woolworths, which is a major retail company in South Africa and Australia, and the Clothing Bank, which is a nonprofit that works with unemployed groups of men and women and teaches them to become financially and socially independent.
Housing situation in Siena: I lived in a student apartment right at the center of the city of Siena with two other students from Brandeis. I shared my room with one of them, and the other student had their own room. We had our own kitchen and the laundromat was right down the street. Luckily, we lived right across the best gelato place in Siena (affordable, too!) and our favorite pizza place was right down the street! The location was perfect, and my roommates were awesome.
Housing situation in Cape Town: I lived with nine other student interns from all over the U.S. and my RA, who was from Zambia and a senior at UCT, in a house that was about 15 minutes away from Cape Town. I also had a weekend homestay in Grabouw which was probably one of the highlights of my entire experience abroad!
Best memory in Siena: My best memory was the side trip I got to make to Cinque Terre. I had seen Cinque Terre on postcards, Tumblr, TV, you name it. My roommate in Siena and I decided to go there during our midterm break, and it was amazing! Crystal-blue waters, large rocks, a lot of good food like fried calamari was literally everything I could have ever imagined or hope for. I got to explore all five villages, swim in the cold water and meet a few cool people along the way.
Best memory in Cape Town: One of the best memories I have is climbing to the top of Lion's Head with two of my housemates. It took us about an hour, but we were definitely beat and I even rolled my ankle. Regardless of that, the view was breathtaking, and my housemate and I ended up paragliding off of Lion's Head as well. I literally have no regrets.
Greatest challenge in Siena: Trying to learn Italian when Spanish was my first language. Although Italian and Spanish are Romance languages and both use a lot of similar words, they are still very different. A lot of Italian contradicts what I know naturally about Spanish and I had a hard time differentiating the two.
Greatest challenge in Cape Town: The greatest challenge I faced was probably the judgments I faced as an American student abroad. Like all places across the world, people have these preconceived notions and mindsets on certain groups of people because of where they are from. It was difficult hearing some of these things because I felt that others had already made up their mind about me. Despite this, I feel that I helped break some of these stereotypes with a lot of the people I met in South Africa, especially the ones I built closer relationships with.
What you know now that you didn't know before about Siena: The social/nightlife in Italy is very different from what we are accustomed to. Local shops, restaurants and stores will close down for one to three hours for a nap, lunch break, etc. The nightlife also also starts a lot later; we went to a neighborhood party at 11:30 to midnight-ish and it was "dead" because we arrived too early. The event was much more alive and going at around 1 a.m. which is when evening events in Italy start to pick up.
What you know now that you didn't know before about Cape Town: When people tell you to keep an open mind when you go abroad, actually go by that statement. There are so many wonderful experiences and moments that happen when you're abroad, and a major part of that is keeping an open mind. I tried different foods and drinks and took part in activities that I, and other students, never imagined ourselves doing and at the end of the day, we wouldn't have wanted it any other way.
Fact about Italy that you think people would be surprised to learn: Around €3000 of change is thrown into the Trevi Fountain by tourists on a daily basis. The money is gathered and donated to charity.
Fact about South Africa that you think people would be surprised to learn: South Africa is home to the highest commercialized bridge for bungee jumping and has 11 official languages!
"What we learned in class was relevant to our study abroad city and country... especially since we would be visiting the sites of most of the works and artists we discussed in class."
Zoila Coc-Chang '18