Overview of Midyear Programs
There are many opportunities available for midyear students to take part in during their fall semester before arriving at Brandeis. For the adventurous, Brandeis works with fall off-campus study programs that are tailored specifically to meet your academic and social interests. A fall semester in Europe is a wonderful time to explore different places and cultures.
The Office of Study Abroad at Brandeis University encourages Brandeis Midyears to consider one of these programs as part of their planning for their fall semester before starting classes at Brandeis in January. These programs with Arcadia University and CET Academic Programs have been designed with Brandeis Midyears specifically in mind. On these programs, Brandeis Midyears can not only have a unique first semester of college in another country but they can continue to make progress towards their Brandeis degree. These and other highlights of these programs include:
Earn a full semester of transfer credit
Complete your first-year University Writing Seminar (UWS) requirement
Fulfill other General University School Requirements
Start or continue Italian language in order to complete the Foreign Language Requirement (Florence Only)
Engage in a new culture and experience living in a major metropolitan city
Connect and form bonds with other entering Brandeis Midyears
As the global COVID-19 pandemic continues to evolve rapidly, the Office of Study Abroad is continuously monitoring the situation in collaboration with our partners at CET and Arcadia. As of March, CET and Arcadia plan to run these programs. Program staff and advisors in the Office of Study Abroad are here as a resource to students with questions or concerns about fall midyear programs. Please contact Study Abroad Advisor Ari Massefski at arim@brandeis.edu or 781-736-3483 with questions about a fall midyear program can fit into your Brandeis experience.
Brandeis midyears may attend a fall program in London through the College of Global Studies at Arcadia University.
Midyears will enroll in four courses including a first-year writing seminar. Courses will be offered by the Arcadia center and two local institutions in areas such as history, art history, literature, psychology, international relations, and economics; participate in research workshops and discussion groups; and tour renowned libraries.
In addition, you will participate in excursions in and around London and engage with your local environments through guided community service opportunities. Scholarships are available.
Learn more about Seth Wulf '21 and his experience in London
Learn more about the Arcadia London Midyear Program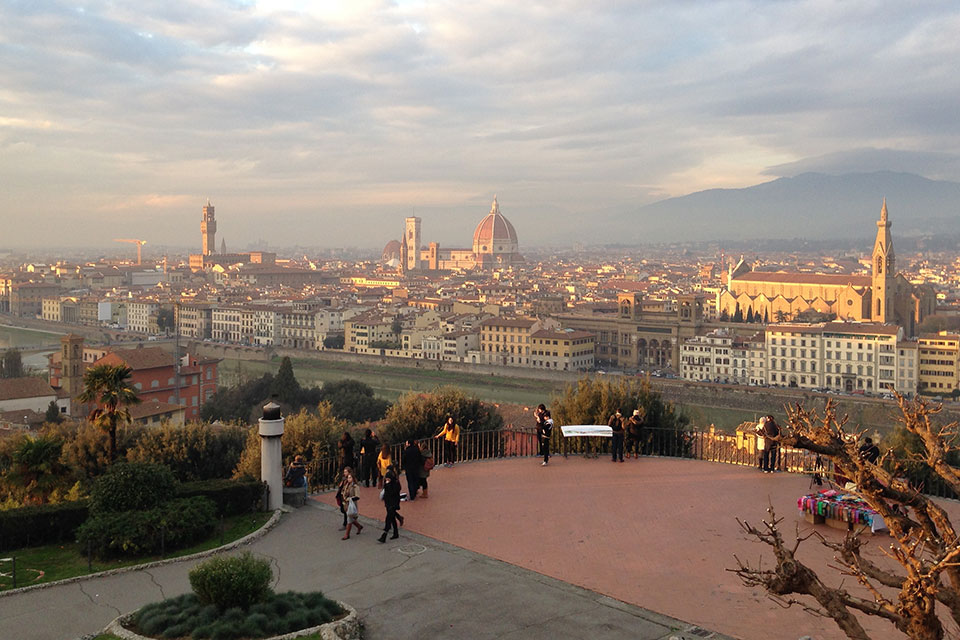 Launch your Brandeis career in Florence, Italy. CET Academic Programs, a leading study abroad program provider, offers Brandeis midyear students the chance to spend their fall semester in Florence.
Students take five courses while studying and living in one of the world's most captivating cities. Classes include "Beginning Italian," a first-year writing seminar and three electives in fields such as art history, political science and economics. The program brings learning outside the classroom by arranging an extensive array of fully and partially sponsored activities.
Students can take bike tours through the Chianti countryside, participate in city charity walks and join in local soccer tournaments.